AUSSIEVISION NATIONAL
FINAL TOP 100
The sixth annual National Final Countdown, organised by  Aussievision, got its second radio countdown here on ESCape Radio! 
The complete Top 100 national final songs of all time as voted by fans got played in an Countdown from 100 to 1. This year KEiiNO won for the second time with "Monument" right in front of the Australian favorites Electric Fields.
You can find the votings from the 5th, 4th, 3rd, 2nd and 1st National Final Countdown on the website from Aussievision.
And now – here are the complete National Final Top 100 of 2022: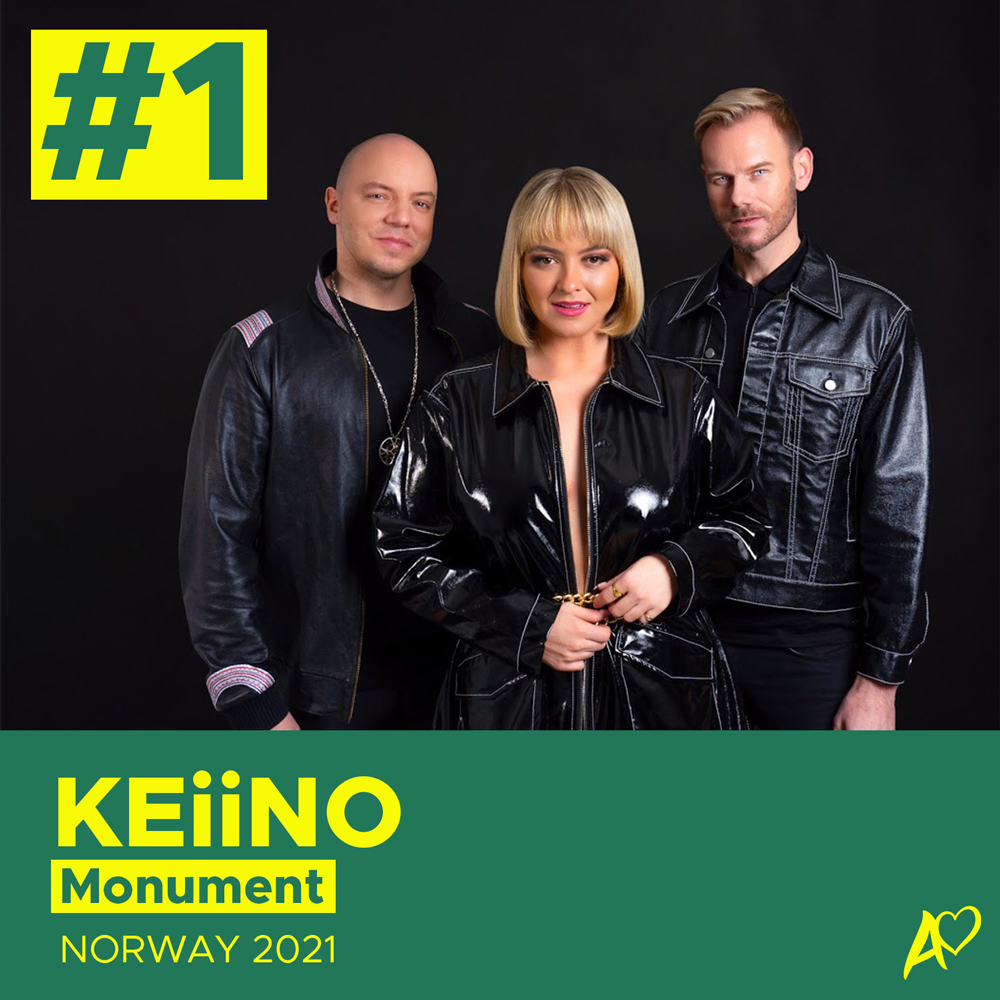 101. Germany – Felicia Lu – Anxiety
102. Australia – Vanessa Amorosi – Lessons of Love
103. Finland – Mikael Saari – On It Goes
104. Germany – Voxxclub – I mog di so
105. Norway – Mørland – Ein livredd mann
106. Norway – Blåsemafian feat. Hazel – Let Loose
107. Sweden – Jon Henrik Fjällgren & Aninia – En värld full av strider
108. Portugal – Os Quatro e Meia – Amanhã
109. Norway – Emmy – Witch Woods
110. Denmark – Michael Rune – I Wanna Be Loved
—
111. Norway – Laila Samuels – Afterglow
112. Finland – Teflon Brothers x Pandora – I Love You
113. Sweden – Molly Sanden – Youniverse
114. Latvia – Aminata – I'm Letting You Go
115. Ukraine – Tayanna – I Love You
116. Sweden – BWO – Lay Your Love On Me
117. Germany – Ryk – You and I
118. Spain – Blanca Paloma – Secreto de agua
119. Finland – Olivera – Thank God I'm an Atheist
120. Sweden – Charlotte – The Girl
—
121. Estonia – Laura – Supersonic
122. Estonia – Anna Sahlene – Champion
123. Italy – Ermal Meta – Vietato morire
124. Sweden – Danny Saucedo – Amazing
125. Albania – Mirud – Nëse vdes
126. Finland – Saara Aalto – Domino
127. Finland – Ilta – Kelle mä soitan
128. Sweden – Anna Bergendahl – Ashes to Ashes
129. Israel – Chen Aharoni – Or
130. Ireland – Rachel Goode – I'm Loving Me
—
131. Sweden – Cazzi Opeia – I Can't Get Enough
132. Sweden – The Mamas – In the Middle
133. Germany – Laing – Wechselt die Beleuchtung
134. Albania – Inis Neziri – Piedestal
135. Lithuania – Monique – Make Me Human
136. Denmark – Hera Bjork – Someday
137. Czech Republic – Jordan Haj and Emma Smetana – By Now
138. Sweden – ABBA – Ring Ring
139. Lithuania – Rūta Loop – We Came from the Sun
140. Norway – Ida Maria – Scandilove
—
141. Sweden – Theoz – Som du vill
142. Iceland – Iva – Oculis Videre
143. Poland – Albert Černý – Lucy
144. Sweden – Danny Saucedo – Dandi dansa
145. Ukraine – Wellboy – Nozzy Bossy
146. Sweden – Sanna Nielsen – Empty Room
147. Portugal – Karetus & Romeu Bairos – Saudade
148. Sweden – Arja Saijonmaa – Högt över havet
149. Sweden – Jon Hernik Fjallgren – Norrsken
150. Slovenia – Sasa Landero – Mandoline
—
151. Sweden – Lena Philipsson – Dansa i neon
152. Croatia – Marko Bošnjak – 'Moli za nas'
153. Norway – Alexandra Rota & Stella Mwangi – You Got Me
154. Estonia – Koit Toome – We Could Have Been Beautiful
155. Estonia – Merilin Mälk – Little Girl
156. Ukraine – Krutь – 99
157. Norway – Raylee – Wild
158. Ukraine – Khayat – Call for Love
159. Australia – Paulini – We Are One
160. North Macedonia – Viktor Apostolovski – Superman—

161. Belarus – Shuma – Hmarki
162. Italy – Il Volo – Musica che resta
163. Lithuania – Greta Zazza – Like I Love You
164. United Kingdom – Cyndi Almouzni – I'll Leave My Heart
165. Norway – Imerika – I Can't Escape
166. Estonia – Egert Milder – Georgia (On My Mind)
167. Finland – Emma – Circle of Light
168. Latvia – MADARA – Esamība
169. Italy – Willie Peyote – Mai dire mai (La locura)
170. Sweden – Måns Zelmerlöw – Hope and Glory
—
171. Sweden – Lisa Ajax – My Heart Wants Me Dead
172. Denmark – Fuld Effekt – Rave med de hårde drenge
173. Italy – Loredana Berte – Cosa ti aspetti da me
174. Croatia – Mia Negovetić – 'Forgive Me (Oprosti)'
175. Italy – Nek – Fatti avanti amore
176. Portugal – Aurea – Why
177. Sweden – Anders Bagge – Bigger than the Universe
178. United Kingdom – Deuce – I Need You
179. Latvia – Saule Riet – Olga un Līgo
180. Australia – Didirri – Raw Stuff
181. Romania – Roxen – Cherry Red
182. Sweden – Yohio – Hearbtreak Hotel
183. Austria – Conchita Wurst – That's What I Am
184. Ukraine – Roxolana – Girlzzz
185. Estonia – Elina Born – In Or Out
186. Slovenia – BQL – Heart of Gold
187. Spain – Javiera Mena – Culpa
188. Sweden – Jenny Silver – Something in Your Eyes
189. Albania – Era Rusi – Zjarri Im
190. Estonia – Winny Puhh – Meiecundimees üks Korsakov läks eile Lätti
—
191. Lithuania – Rūta Loop – Call Me from the Cold
192. Sweden – Anis Don Demina – Vem e som oss
193. Ukraine – Zlata Ognevich – Kukushka
194. Sweden – Robin Bengtsson – Constellation Prize
195. Denmark – Julie and Nina – League of Light
196. United Kingdom – Asanda – Legends
197. Sweden – Eva Rydberg & Ewa Roos – Rena rama ding dong
198. San Marino – Sara De Blue – Out of the Twilight
199. Sweden Jessica Andersson – Party Voice
200. Italy – Ditonellapiaga and Rettore – Chimica
—
201. Czech Republic – Barbora Mochowa – True Colours
202. Lithuania – KaYra – Alligator
203. Greece – Kostas Martakis – Always and Forever
204. Romania – E-an-na – Malere
205. Slovenia – Batista Cadillac – Mim pravil
206. Italy – Francesco Gabbani – Viceversa
207. Malta – Nicole Azzopardi – Into the Fire
208. Serbia and Montenegro – Jelena Tomasevic – Jutro
209. Finland – Mikael Saari – We Should Be Through
210. Lithuania – Lolita Zero – Get Frighten
—
211. Croatia – Lorena Bućan – Tower of Babylon
212. Czech Republic – Annabelle – Runnin' Out of F* Time
213. Estonia – Greta Paia – Paastke Noored Hinged
214. Sweden – ISA – I Will Wait
215. Norway – Eline Noelia – Ecstasy
216. Norway – Sofie Fjellvang – Made of Glass
217. Finland – Oskr – Lie
218. Ireland – Patrick O'Sullivan – One Night, One Kiss, One Promise
219. Denmark – Maja Og De Sarte Sjæle – Den eneste goth i Vejle
220. Sweden – Benjamin Ingrosso – Good Lovin'
—
221. Lithuania – Monika Marija – Light On
222. Poland – Daria – Paranoia
223. Portugal – Catarina Pereira – Mea culpa
224. Czech Republic – Elis Mraz – Imma Be
225. Finland – Aksel – Hurt
226. France – Emmanuel Moire – La promesse
227. Denmark – Jasmin Rose feat. RoxorLoops – Human
228. Italy – Tananai – Sesso Occasionale
229. Norway – Linnea Dale – High Hopes
230. Sweden – Klara Hammarström – Beat of Broken Hearts
—
231. Australia – G-Nation – Bite Me
232. Australia – Jude York – I Won't Need to Dream
233. Hungary – Horváth Tamás – Meggyfa
234. Sweden – Malou Prytz – I Do Me
235. Sweden – Jag är fri – Jon Henrik Fjällgren
236. Spain – Mirela – Contigo
237. Sweden – Samir & Victor – Shuffla
238. Australia – Casey Donovan – Proud
239. Italy – Rancore – Eden
240. Portugal – NEEV – Dancing in the Stars
—
241. Sweden – Arvingarna – Tänker inte alls gå hem
242. Albania – Lindita Halimi – S'te fal
243. Estonia – Stefan – Without You
244. Norway – Jorn – Faith Bloody Faith
245. Switzerland – Timebelle – Singing About Love
246. Estonia – I Wear* Experiment – Patience
247. Italy – La rappresentante di Lista – Amare
248. France – Marius – Les chansons d'amour
249. Czech Republic – Barbora Mochowa – White & Black Holes
250. Portugal – Surma – Pugna