AUSSIEVISION NATIONAL
FINAL TOP 100
The fifth annual National Final Countdown, organised by  Aussievision, got its first radio countdown here on ESCape Radio! 
The complete Top 100 national final songs of all time as voted by fans got played in an Countdown from 100 to 1. This year KEiiNO won with "Monument" right in front of the Australian favorites Electric Fields.
You can find the votings from the 4th, 3rd, 2nd and 1st National Final Countdown on the website from Aussievision.
And now – here are the complete National Final Top 100 of 2021: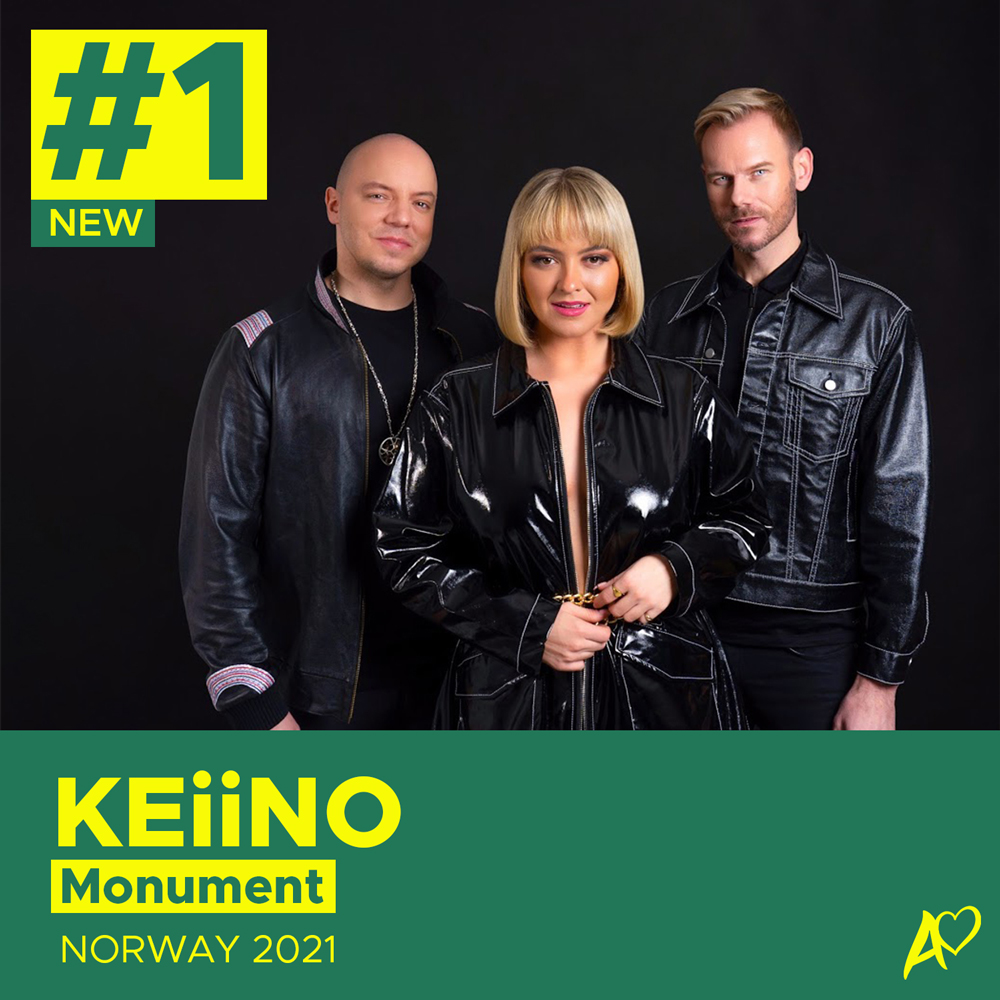 101. ICELAND 2019   Hatari "Hatrið mun sigra" (131 Points)
102. SPAIN 1995   Anabel Conde "Vuelve Conmigo" (130 Points)
103. UKRAINE 2004   Ruslana "Wild Dances" (129 Points)
104. PORTUGAL 2019   Conan Osíris "Telemóveis" (128 Points)
105. ALBANIA 2019   Jonida Maliqi "Ktheju Tokes" (127 Points)
106. AZERBAIJAN 2009   Aysel & Arash "Always" (126 Points)
107. FINLAND 2006   Lordi "Hard Rock Hallelujah" (125 Points)
108. GERMANY 1975   Joy Fleming "Ein Lied Kann Eine Brücke Sein" (124 Points)
109. IRELAND 2011   Jedward "Lipstick" (123 Points)
110. UKRAINE 2013   Zlata Ognevich "Gravity" (122 Points)
111. ITALY 2020 (NF)   Pinguini Tattici Nucleari "Ringo Starr" (121 Points)
111. SWEDEN 2019   John Lundvik "Too Late For Love" (121 Points)
111. SWITZERLAND 1988   Celine Dion "Ne partez pas sans moi" (121 Points)
114. UKRAINE 2007   Verka Serduchka "Dancing Lasha Tumbai" (120 Points)
114. FRANCE 1991   Amina "Le Dernier qui à parlé" (120 Points)
116. ESTONIA 2012   Ott Lepland "Kuula" (119 Points)
117. ARMENIA 2020   Athena Manoukian "Chains On You" (118 Points)
117. ROMANIA 2010   Paula Seling & Ovi "Playing With Fire" (118 Points)
119. UK 1981   Brotherhood Of Men "Save Your Kisses For Me" (117 Points)
119. GERMANY 2013 (NF)   Blitzkids Mvt. "Heart On The Line" (117 Points)
121. GREECE 2008   Kalomira "Secret Combination" (116 Points)
121. CZECH REPUBLIC 2018   Mikolas Josef "Lie To Me" (116 points)
121. ESTONIA 2017   Koit Toome & Laura "Verona" (116 Points)
124. BULGARIA 2018   Equinox "Bones" (115 Points)
124. ISRAEL 1983   Ofra Haza "Khay" (115 Points)
124. GREECE 2004   Sakis Rouvas "Shake it" (115 Points)
124. SPAIN 2019   Miki Núñez "La Venda" (115 points)
128. SWEDEN 2019 (NF)   Anna Bergendahl "Ashes To Ashes" (114 Points)
128. INTERVAL ACT 2006   Elena Paparizou "Mambo" (114 Points)
130. NORWAY 2013 (NF)   Adelen "Bombo" (113 Points)
130. FRANCE 1969   Frida Boccara "Un jour, un enfant" (113 Points)
130. BULGARIA 2012   Sofi Marinova "Love Unlimited" (113 Points)
130. AUSTRIA 1966   Udo Jürgens "Merci Chérie" (113 Points)
134. LUXEMBOURG 1972   Vicky Leandros "Apres Toi" (112 Points)
134. DENMARK 2000   Olsen Brothers "Fly On The Wings Of Love" (112 Points)
136. CROATIA 2019   Nevena Bozovic "Kruna" (111 Points)
136. SOUNDTRACK   Will Ferrell & My Marianne "Husavik" (111 Points)
138. UNITED KINGDOM 1996   Gina G "OoH Aah… Just A Little Bit" (110 Points)
138. CROATIA 1998   Danijela Martinovic "Neka Mi Ne Svane" (110 Points)
138. NETHERLANDS 1998   Edsilia Rombley "Hemel & Aarde" (110 Points)
138. ITALY 2013   Marco Mengoni "L'Essenziale" (110 Points)
142. ROMANIA 2020 (NF) Roxen "Cherry Red" (109 Points)
143. AUSTRIA 2016   ZOË "Loin D'ici" (108 Points)
144. FRANCE 2009   Patricia Kaas "Et Sil Falliat Le Faire" (107 Points)
144. SPAIN 1975   Sergio y Estibaliz   "Tu volveras" (107 Points)
146. AZERBAIJAN 2019   Chingiz "Truth" (106 Points)
146. FINLAND 2018   Saara Aaalto "Monsters" (106 Points)
146. SWITZERLAND 2009   Lovebugs "The Heighest High" (106 Points)
149. NORWAY 2014   Carl Espen "Silent Storm" (105 Points)
150. ITALY 1992   Mia Martini "Rapsodia" (104 Points)
150. AUSTRIA 2018   Cesar Sampson "Nobody But You" (104 Points)
150. ITALY 1997   Jalisse "Fuimi di parole" (104 Points)
150. SPAIN 2004   Ramón "Para Llenarme De Ti" (104 Points)
154. CROATIA 2020 (NF)   Indira "You Will Never Break My Heart" (103 Points)
154. ITALY 2018 (NF)   Annalisa "Il Mondo Prima Di Te" (103 Points)
154. ICELAND 2010   Hera Björk "Je Ne Sais Quoi" (103 Points)
157. ISRAEL 2008   Boaz "The Fire In Your Eyes" (102 Points)
157. CZECH REPUBLIC 2019   Lake Malawi "Friend Of A Friend" (102 Points)
157. GREECE 2012   Eleftheria Eleftheriou "Aphrodisiac" (102 Points)
160. CYPRUS 1997   Hara & Andreas Konstantinou "Mana Mou" (101 Points)
160. HUNGARY 2011   Kati Wolf "What About My Dreams?" (101 Points)
160. ISRAEL 1973   Ilanit "Ey'sham" (101 Points)
163. ARMENIA 2016   Iveta Mukuchyan "LoveWave" (100 Points)
163. ISRAEL 2020   Eden Alene "Feker Libi" (100 Points)
163. ROMANIA 2012   Mandinga "Zaleilah" (100 Points)
166. NETHERLANDS 2013   Anouk "Birds" (99 Points)
166. ROMANIA 2020   Roxen "Alcohol You" (99 Points)
166. ISRAEL 2016   Hovi Star "Made Of Stars" (99 Points)
166. SAN MARINO 2013   Valentina Monetta "Crisalide" (99 Points)
166. ISRAEL 2017   Imri Ziv "I Feel Alive" (99 Points)
166. ROMANIA 2006   Mihai Traistariu "Tornero" (99 Points)
166. PORTUGAL 2014   Suzy "Quero Ser Tua" (99 Points) 
166. BELGIUM 2013   Roberto Bellarosa "Love Kills" (99 Points)
166. NETHERLANDS 1980   Maggie MacNeal "Amsterdam" (99 Points)
166. FRANCE 2019 (NF)   Seemone "Tous Les Deux" (99 Points)
166. AUSTRALIA 2018   Jessica Mauboy "We Got Love" (99 Points)
177. BULGARIA 2020   Victoria "Tears Getting Sober" (98 Points)
177. SPAIN 2009   Soraya "La Noche Es Para Mí" (98 Points)
177. NORWAY 2011   Stella Mwangi "Haba Haba" (98 Points)
177. GREECE 2013   Koza Mostra & Agathon Lakovidis "Alcohol Is Free" (98 Points)
177. PORTUGAL 1981   Carlos Paião "Playback" (98 Points)
177. BELARUS 2013   Alyona Lanskaya "Solayoh" (98 Points)
183. INTERVAL ACT 2010   Madcon "Glow" (97 Points)
183. GERMANY 2013   Cascada "Glorious" (97 Points)
183. TURKEY 2004   Athena "For Real" (97 Points)
183. SERBIA 2015   Bojana Stamenov "Ceo Svet Je Moj" (97 Points)
183. MOLDOVA 2010   Sunstroke Project & Olia Tira "Run Away" (97 Points)
183. SLOVAKIA 2010   Kristina Pelakova "Horehronie" (97 Points)
183. AUSTRALIA 2020 (NF)   Jaguar Jonze "Rabbit Hole" (97 Points)
183. SWEDEN 2017 (NF)   Loreen "Statements" (97 Points)
183. ISRAEL 1978 (NF)   Chedva Amrani "Belev Echad" (97 Points)
192. DENMARK 2014   Basim "Cliché Love Song" (96 Points)
192. LATVIA 2000   Brainstorm "My Star" (96 Points)
192. ISRAEL 2020 (NF)   Eden Alene "Savior In The Sand" (96 Points)
192. MALTA 2019   Michela Pace "Chameleon" (96 Points)
192. SPAIN 2018 (NF)   Aitana & Ana Guerra "Lo Malo" (96 Points)
192. GREECE 2014   Freaky Fortune feat. RiskyKidd "Rise Up" (96 Points)
192. ESTONIA 1997   Maarja-Liis Ilus "Keelatud maa" (96 Points)
192. AUSTRALIA 2020   Montaigne "Don't Break Me" (96 Points)
192. SWEDEN (NF)   Shirley Clamp "Burning Alive" (96 Points)
192. LITHUANIA 2020 (NF)   Gabrielius Vagelis "Tave Čia Randu" (96 Points)
192. SWITZERLAND 2008   Paolo Meneguzzi "Era Stupendo" (96 Points)
192. F.Y.R. MACEDONIA 2017   Jana Burcheska "Dance Alone" (96 Points)
192. RUSSIA 2020   Little Big "Uno" (96 Points)
192. FINLAND 2017   Norma John "Blackbird" (96 Points)
192. SPAIN 2002   Rosa Lopez "Europe's Living A Celebration" (96 Points)